(One of the Planned Activities to Commemorate Energy Week 2013)
Georgetown, November 17, 2015: The Transport and Harbours Sports Club in Thomas Lands was the scene of much exuberance, enthusiasm and high energy on Tuesday November 17th when 50 Primary School Students participated in the Guyana Energy Agency's (GEA) 'Express Your Energy' activity.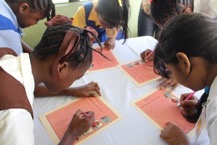 Planned as one of the activities to commemorate Energy Week 2015 'Express your Energy' was attended by students, between the ages of nine to eleven (9-11) of grades four (4) and six (6), from Grahams' Hall Primary, North Georgetown Primary, West Ruimveldt Primary, St Agnes and St Ambrose Primary. Students were encouraged at different stations to convey their interpretation and knowledge of energy sources, sustainability, energy conservation and energy efficiency through artwork/pictorial illustrations, word search and conservation tips.
The students wasted no time in completing the relay themed energy-based activities at their respective stations before jumping, bunny hopping, running and walking to the next station as their fellow team members loudly showed support; while the teachers joined in the fun, coaching them along as they offered energy efficient tips and illustrated energy sources. The activity was non-competitive, therefore, students were not judged or ranked based on their illustrations. Rather, each school (and student) was awarded a 'Certificate of Participation while each student along with their teachers were awarded a token of appreciation as an honorary 'Energy Champion'.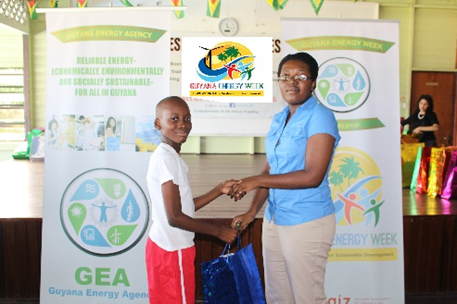 Students and teachers were also treated to energy conservation videos as they interacted in a lively discussion and quiz on their learning from the activity. Amidst the enthusiasm through the cheering and delight in participation, the children clearly demonstrated a sound understanding of energy efficiency and conservation through accuracy in answering questions and explaining their illustrations.
In keeping with the promotion of sustainable energy development CARICOM Energy Week, 2015 was observed across the Caribbean, by CARICOM member States, from November 8-14, 2015 under the theme 'Empowering our Sustainable Development'.
The Guyana Energy Agency, in the exercise of its mandate, continues to promote energy efficiency, energy conservation and the development and utilisation of alternative sources of energy. The observance of Energy Week, consistent with Guyana's energy trust and Low Carbon Development Strategy, serves as an annual feature that provides an additional platform which enables GEA to fulfill part of its mandate by disseminating information essential to improving public awareness on sustainable energy, conservation and overall efficiency.