Georgetown, August 13 2018:  The Guyana Energy Agency, in collaboration with the Latin American Energy Organization (OLADE), hosted a consultation workshop for key stakeholders titled 'Human Resources Management, Energy Statistics & Planning Awareness' on August 13, 2018 at the Pegasus Hotel, Georgetown.
The workshop was conceptualized under the frame work of the 'Caribbean Energy Statistics Capacity Enhancement Project' which has been implemented and supported by OLADE and the International Development Association – World Bank. The Project's main objective is to enhance energy statistics planning and management capacity and to implement National Energy Information Systems within five Caribbean countries – Belize, Grenada, Guyana, Jamaica, and Suriname. The key output of the implementation of a National Energy Information Management System is expected to be in place by mid-2019.
With Guyana being one of the beneficiary countries of the Project, the main purpose of the workshop was to inform participants of :- the overall project, the requirements for information management and energy planning, as well as human resources management and energy statistics.
During his opening remarks, Minister David Patterson, Minister of Public Infrastructure, expressed gratitude to OLADE on behalf of the Government of Guyana for the support the Organization has lent to Guyana's Energy Sector over the years. He expressed the view that the workshop "….presents an opportunity for dialogue on the importance of energy statistics in driving the transformation and evolution of the sector and the critical role that that each organization in attendance play in the collection, analysis and reporting of energy information…"
Some of the topics covered during the session were: Information management and Energy Planning, Human Resources Management and Energy Statistics, the National Energy Sector – Data Management and Challenges.
The workshop was attended by representatives from the Ministry of Presidency Dept. of Environment, Guyana Sugar Cooperation, Guyana Revenue Authority, Rubis, GUYOIL, Ministry of Public Infrastructure, Public Utility Commission, Guyana Power and Light, Bureau of Statistics, Ministry of Finance, Institute of Applied Science and the Guyana Energy Agency.
Guyana has been a member of OLADE since 1973 when the Lima Convention was ratified. Over the years, Guyana has benefitted from several partnerships with OLADE particularly in the areas of capacity building and rural electrification.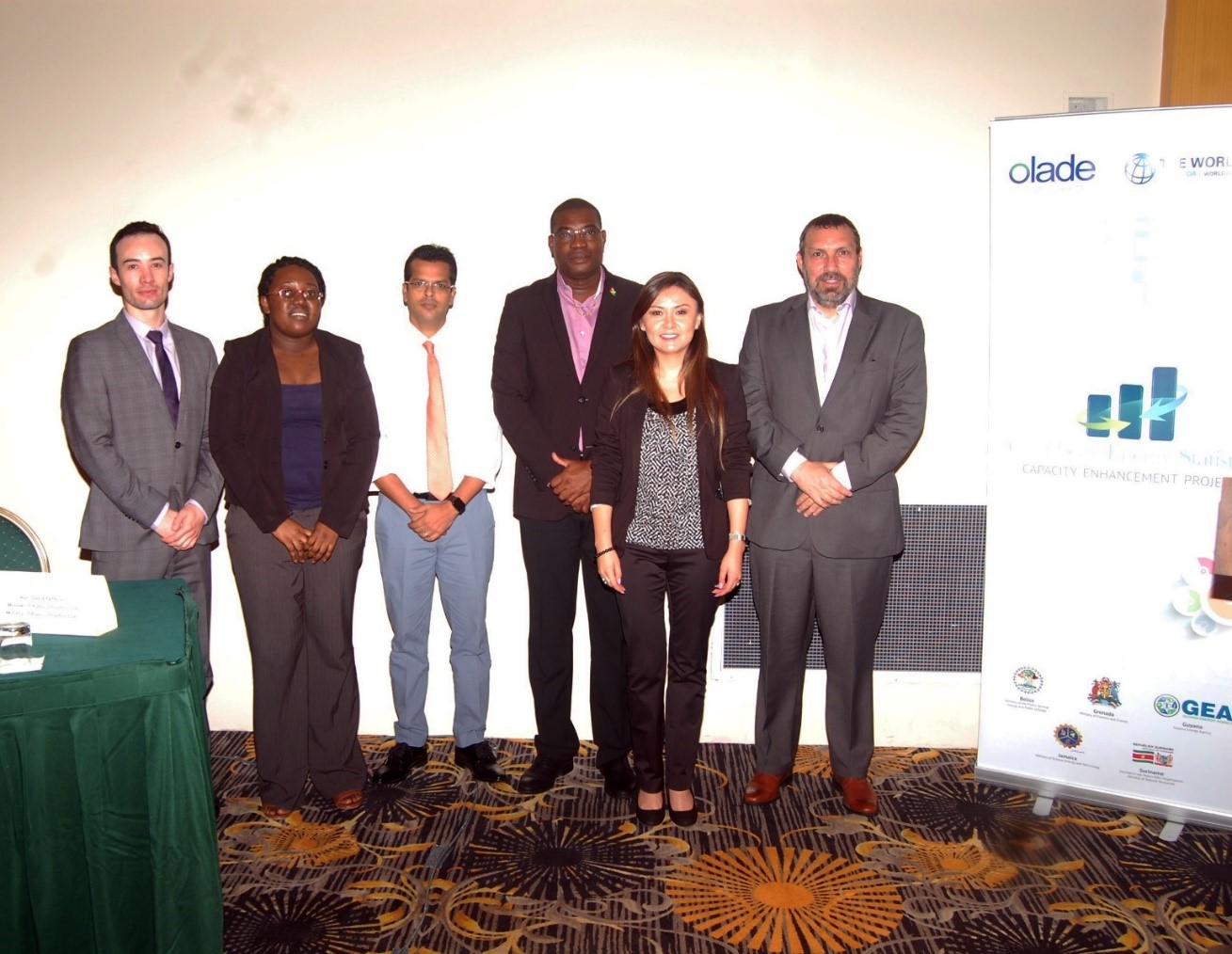 From Left to Right: Gabriel Castellanos-Senior Emergy Specialist OLADE, Ms. Shevon Wood-Head Energy & Energy Statistics Department -GEA, Dr. Mahender Sharama CEO –GEA, Hon Minister Patterson – Minister of Public Infrastructure, Ms. Valeria Balseca Project manager-OLADE and Andres Schuschny, Director of Project – OLADE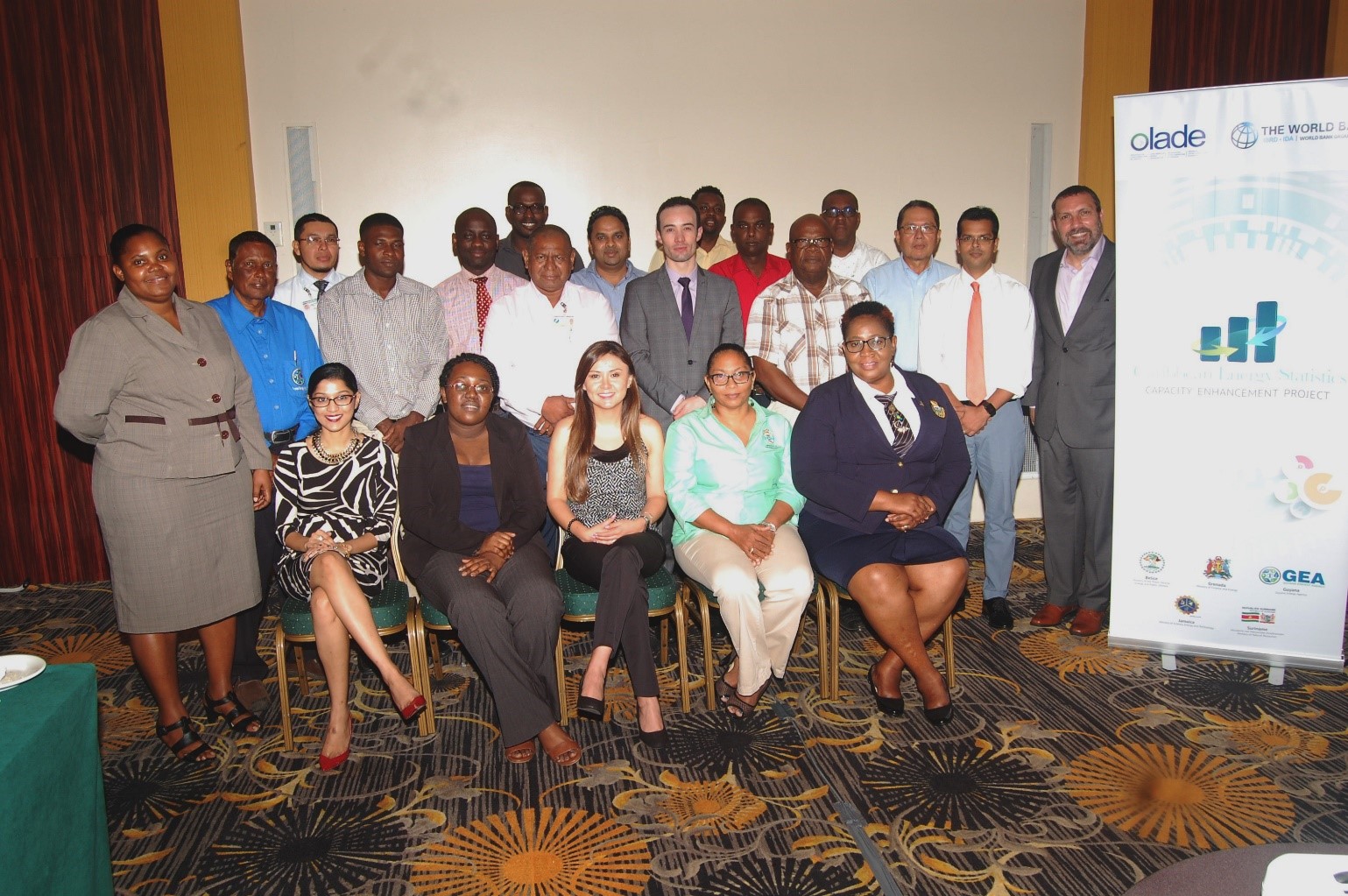 Participants and Facilitators of  the workshop.