Solar Energy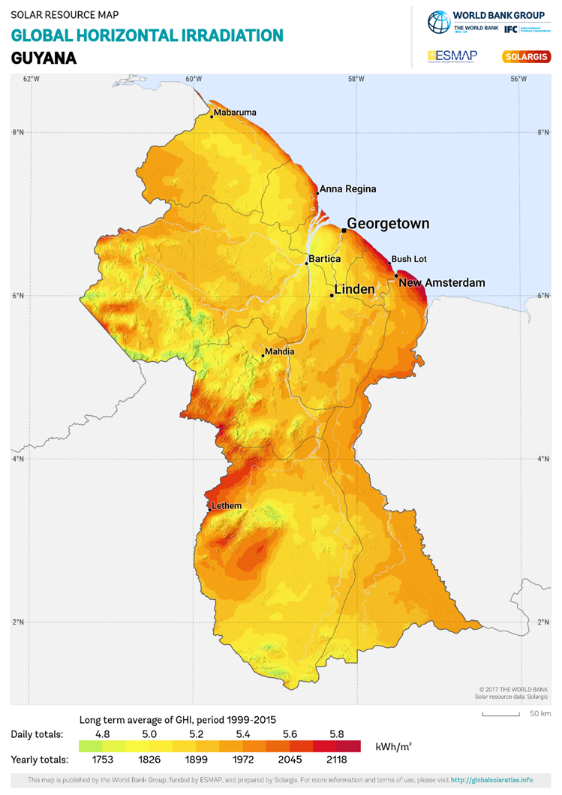 Guyana is currently dependent on imported petroleum-based fuels as its main source of energy. However, the Energy sector is poised for significant transformation due to Guyana re-committing itself to the development of its indigenous renewable energy resources and to pursue 100% renewable energy in electricity generation in its Green State Development Strategy.
According to the Energy Sector Management Assistance Program (ESMAP), Guyana receives an average of 1,800 kWh/m2 annually. As a result, most locations across Guyana have excellent solar insolation levels and are ideal for solar PV generation. As at 2018, the total installed capacity for Solar PV in Guyana is 4.63 MW with an estimated annual generation of 7.16 GWh.
In Guyana, solar energy is used for several purposes, including drying agricultural produce, irrigation, ICT, and to improve electricity access in rural areas. Under the Hinterland Electrification Programme, in excess of 19,000 solar PV systems had been installed in nearly 200 communities by 2018.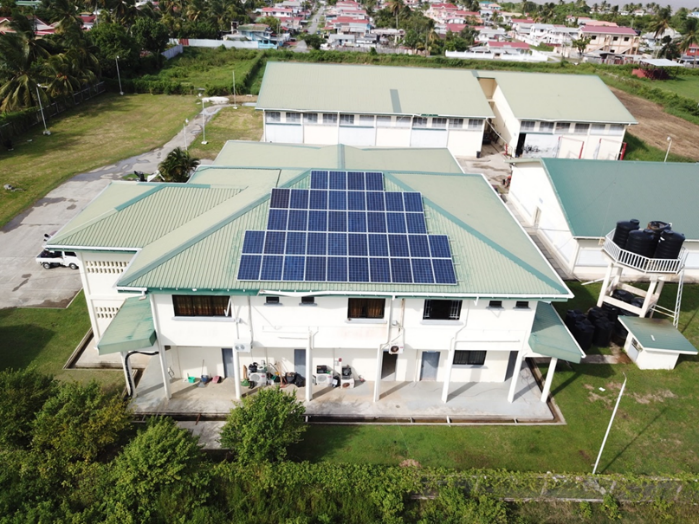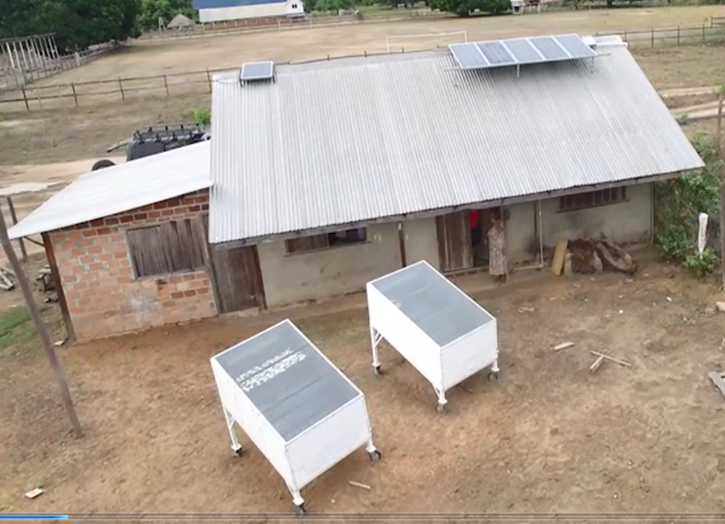 Additionally, during 2017 and 2018, the Government implemented under its Green Public Sector programme solar photovoltaic (PV) systems with a combined capacity of 3.02 MW on the rooftops of 175 public or government buildings. A pilot programme for stand-alone solar street lighting was also carried out and, to date, 65 solar powered LED street lights have been installed. An additional 400 solar powered LED street lights is planned for 2019.
Guyana will shortly complete the installation of its first solar PV farm in Mabaruma, Region 1 with an installed capacity of 400 kW and within the next 2 years, a series of solar PV Farms, totaling 5.2 MW is planned for Bartica, Lethem, Mahdia, Port Kaituma, Kwakwani and Matthew's Ridge.
Link: Solar PV Projects Map
Fiscal incentives include VAT and import duty exemptions for renewable electricity equipment, solar appliances, solar water heaters and solar cookstoves, one-off tax holiday of two years for corporation tax to importers of items for solar energy investments, and a change of the Wear and Tear Schedule of the Income Tax Act to allow for the write-off of capital expense within 2 years.
The main electric utility, Guyana Power and Light Inc. (GPL) is preparing plans for 3 utility scale solar PV farms totaling 30 MW for the national grid in the long term, as well as 0.75 MW Solar PV Farm at Wakenaam and a 4 MW Solar PV Farm at Onverwagt in the near future. Also, the Global Green Growth Institute (GGGI) is supporting the Government of Guyana and the private sector to advance solar PV initiatives. In addition to establishing a National Grid Code, GPL is working on a Code for the Integration of Distributed Generation and establishing the commercial and technical frameworks for grid-connected renewable energy systems and streamline the procedures for feed-in mechanisms.
In addition, 1.184 MW of solar PV systems will be installed at 80 public buildings in all 10 Administrative Regions of Guyana in 2019.  These installations will result in estimated savings of G$114 million and avoiding 1,415 tons of CO2 emissions per year. Moreover, to build on the fiscal incentives on hybrid and electric vehicles and charging stations that were instituted in 2017, GEA will be piloting the use of an electric vehicle as a means to inform research and development and promote energy diversification in the Transport sector.  The pilot project entails setting up an electric vehicle with accompanying solar panels and energy storage system.
Related News
| | | |
| --- | --- | --- |
| | | Some of the lights installed at the National Park |
Solar Grid Tie Project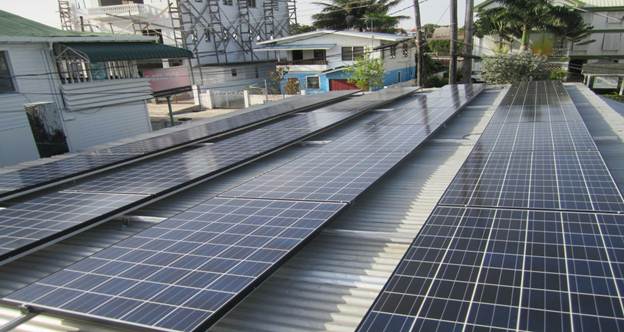 Solar Photovoltaic Systems Installed in 2007
Solar energy is primarily being installed in the hinterland/remote areas of the country. Currently under the Unserved Areas Electrification Programme, a number of communities have received solar photovoltaic's home systems. In 2007, a number of Regions benefitted from solar photovoltaic projects, some of which are listed below:
Location

Application

# of Panels

Wara Paka Region 1

Lighting for Health Centre

2

Karia Karia Region 3

Lighting for Health Centre

2

Ministry of Finance Region 4

Computer

2

Ministry of Agriculture Region 4

Battery  Charging

1

Guyana Energy Agency Region 4

Lighting for  CEO's Office

3

Flagstaff Region 4

Battery  Charging

1

Ogle Region 4

Lighting

3

Imbaimadai Region 7

Lighting for School

6

Imbaimadai Region 7

Lighting for Health Centre

2

Monkey Mountain Region 8

Lighting for Health Centre

2

72 Miles Potaro Region 8

Lighting for

School

6

Apoteri Region 9

Lighting for Health Centre

2
Rural Electrification Project
This is an OLADE/CIDA/University of Calgary/Haskayne School of Business funded project which started in June 2007. The project will result in the installation of photovoltaic systems for 42 homes in the community, a joinery project, garden project, solar freezer for a village shope, and a cassava processing unit.
Objective
Incorporate rural stakeholders in the development of rural electrification strategies, making use of the lessons learnt from pilot projects carried out in an isolated poor community of Guyana
Set up sustainable schemes for projects focusing in providing energy services to poor communities, considering energy as a tool for development
Community where the project piloted:
Woweta, Region 9
Phase 1
Preparation
This phase is completed. The following were the objectives of this initial phase.
Assessment of the Country's Rural Sector
Community Selection
Participatory Multiparty Mechanism
Assessment of Community Demands
Phase 2
Projects Implementation
This phase is currently ongoing. The objectives of this phase are:
Setting up of rural enterprise
Establishing a financial mechanism
Work plan definition
Equipment Installation
Community training
Monitoring plan
Phase 3
Evaluation process
This phase is for three (3) months and has the following components
Assessment of project impact
National workshop
National lessons learnt